Policy meeting to promote small-scale rice-fish culture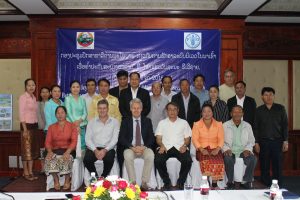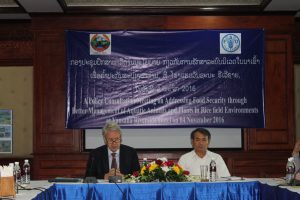 On the 4th November, the Department of Livestock and Fisheries (DLF) organized a Policy Consultation Meeting to discuss summary results from the farmer Promotion Trials conducted in Xieng Khouang and Savannakhet provinces. The trials have been undertaken as part of a collaborative project with the Food and Agriculture Organization of the United Nations (FAO under the Regional Rice Initiative (RRI). The trials with more than 20 farming families in the two provinces, aimed to refine simple aquaculture techniques to address food and nutrition security. The recommendations tested and developed in the trials improved the way farmers manage the aquatic animals and plants in rice field environments which are a crucial component of the diet of many people in rural areas.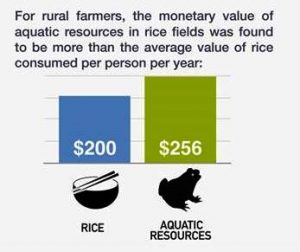 During the workshop government officers and farmers summarize and present their conclusions of the trials which they discussed for two days before presenting them to the Policy Consultation Meeting. The presentations included technical data (e.g. on fish growth), as well as the benefits generated at both the individual family level and within the wider community. Opportunities for improving the technical recommendations and expanding recommendations on small-scale rice-fish to other communities, were also discussed.
Farmer presentations and subsequent discussion with policy makers, highlighted the importance of aquatic animals and plants in rice fields to the food and nutrition security of many rural families. Surveys of daily consumption undertaken by farmers during both the dry and wet seasons, demonstrated the value of rice field animals and "weeds" (e.g. fish, frogs, snails and aquatic plants), exceeds the value of the rice. However, the increasing use of chemical pesticides is causing a decline in these animals and plants and farmers are keen explore ways in which this decline can be reversed.
The Promotion Trials conducted under the DLF/FAO RRI project, test new and simple techniques for farmers to increase production of animals and plants from their rice fields and have safe and nutritious food for their families. This is especially important for young children, and policy makers discussed how the new techniques could be more widely disseminated and integrated into government strategies to improve nutrition security and address poverty reduction.
Senior representative from key departments in the Ministry of Agriculture and Forestry who attended the Policy Consultation Meeting, agreed small-scale rice-fish farming has an important role to play in improving nutrition security. Low-cost and simple techniques of farming fish in rice fields, like the ones tested in Savannakhet and Xieng Khouang, now need to be more widely promoted.