MULTILATERAL DISCUSSION HELD TO PROMOTE SAFER TRADE OF ANIMALS AND ANIMAL PRODUCTS 29-30/06/2016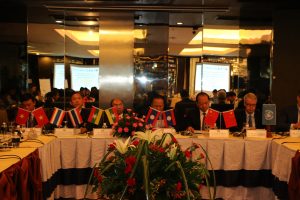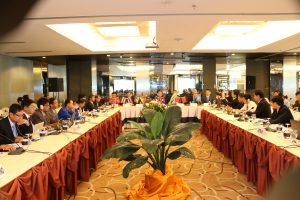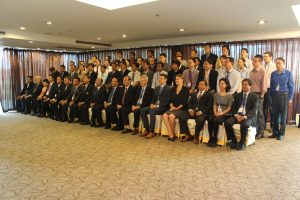 Senior animal health officials from five Upper Mekong countries are meeting to promote technical collaborations on transboundary animal disease control and safer trades of animals and animal products between these countries. The meeting was attended also by the United States Agency for International Development (USAID), the Food and Agriculture Organization of the United Nations (FAO), and the World Organisation for Animal Health (OIE). Organized by the governments of Lao PDR, China, Myanmar, Thailand, and Viet Nam, the meeting will see national representatives discussing on strategies to collaboratively reduce transboundary animal disease risks.
"We have China, Lao PDR, Myanmar, Thailand and Vietnam together today. We are hopeful that we will able to advance collaboration mechanism for animal disease control among the countries under One Health concept," Dr. Wang Gongmin said in his opening remarks.
The transnational movement of livestock is a known factor in the spread of transboundary animal diseases in Asia and around the world. However, many of the livestock movements within the Upper Mekong Sub-region occur unofficially and their pathways are increasingly complex. Over the course of the four-day meeting, participants will share their knowledge, experiences and strategies for enhancing biosecurity in the international livestock trade.
"In the border areas of Lao PDR, China, Vietnam and Myanmar, high-impact diseases such as HPAI, FMD and PRRS are threatening the food security and economic potential of millions of people, while a few of these diseases also pose threats to public health" said Regional Manager of the UNFAO Emergency Centre for Transboundary Animal Diseases, Dr. Wantanee Kalpravidh.
 "Infectious diseases know no boundaries. The projected acceleration of population growth, surging demand for animal protein, and an increasingly interconnected region under the ASEAN economic community will further drive the movement of animal and human diseases across borders in the coming years. USAID is pleased to continue our longstanding partnership with governments across the region to enhance capacities to prevent, detect, and respond to infectious disease threats, including those of animal origin that threaten not only public health, but also economic and social stability," said Aaron Schubert, Acting Laos Office Director for USAID.
Over the past decade, UNFAO and USAID have invested over US$37 million improving the capacities of Upper Mekong countries for the prevention and control animal diseases.
"In the border areas of Lao PDR, high-impact diseases such as HPAI, FMD and PRRS are threatening the food security, economic potential and public health of millions of people," said Dr. Stephen Rudgard, UNFAO Representative to Lao PDR.
In Lao PDR, UNFAO works closely with the Department of Livestock and Fisheries to upgrade laboratories, train animal health workers, develop strategies, implement international standards, and support the adoption of sound policies on animal and human health.
In fact, this week's meeting is a development of a previous meeting, also held in Vientiane, between Lao PDR, China, and Myanmar in December, 2014. The discussion took place in the past 4-day meeting in Vientiane is crucial to put forward stronger collaboration among the countries and partners to realise the common goal.
In his opening remarks, Dr. Khin Zaw, Permanent Secretary of Myanmar's of Ministry of Agriculture, Livestock and Irrigation stated, "I am quite certain that all (the meeting's outcomes) are very crucial for all of us to realize successful controlling of TADs & EIDs. We never forget to cooperate with neighbouring countries and hope and wish to be as the best friends."
"From the 1st meeting, a set of recommendations and concrete actions to be taken by the parties were drawn. Such recommendations and actions require follow-up to ensure they have been properly implemented and that guidance on improved collaboration to further promote safe trades are given," said Dr. Bounkhouang Khambounheuang, Vice Minister of Agriculture and Forestry of Lao PDR.  Participants will also have the opportunity to visit a quarantine station at the Mittaphap Bridge on the Thai-Lao border to see first-hand the logistics involved with cross-border livestock movement.