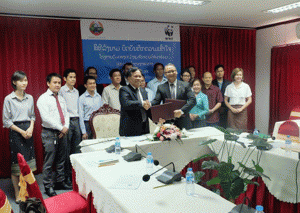 Vientiane, 25th August 2016 — Today the Department of Livestock and Fisheries (DLF) of the Ministry of Agriculture and Forestry and the Worldwide Fund for Nature (WWF-Laos) met in Vientiane to officially launch a new community fisheries project in Bolikhamxay and Khammouan provinces.
The Memorandum of Understanding between the DLF and WWF-Laos was signed at the Sapnakhone Hotel by Mr. Bounthong Saphakdy, Deputy Director General of the DLF, and Mr. Somphone Bouasavanh, Country Director of WWF-Laos, in the presence of representatives from Bolikhamxay and Khammouan provinces.
The project will aim to improve transboundary freshwater natural resources management via the creation of fish conservation zones (FCZ), fisheries management committees and village patrolling units in 15 villages. It will run in parallel with a similar project in Thailand, in an effort to jointly improve the management of the Mekong River's rich natural resources. The project will also support local livelihoods and the development of alternative sources of income to reduce pressure on freshwater natural resources. In addition, the project will seek to raise awareness of communities to better understand the benefits of fish conservation and fisheries management.
Continue reading "Officially launch a new community fisheries project in Bolikhamxay and Khammouan provinces." →